The mission of the Veterans Welcome Home and Resource Center is to assist our local honorably discharged veterans with job placement, filing claims with the Veterans Administration, help those veterans who find themselves in deep financial difficulty, and temporarily shelter those veterans who are homeless until permanent housing can be secured. In order to accomplish these goals, we will seek out all available resources within the community, and bring better awareness to the sacrifices our military veterans have endured to provide safety and security for the United States of America.
The Center was established in June 2009 as a 501c3 non-profit organization in a rented house with limited resources. By 2014 the Center had acquired a 4 bedroom, 2.5 bath house that was converted into office space for the volunteers and a temporary shelter for homeless veterans.  Our financial assistance grew from $300 in 2009 to over $44,000 in 2018. Fundraising is diverse and ranges from golf outings to Beach Bashes, to car shows, and many other events that allow local civic and community organizations to help support both the Veterans Welcome Home and Resource Center and the Hutton Reintegration House.
In 2015 we assisted 300 veterans; in 2019 we assisted 1,228! For those veterans who are homeless and who meet entry requirements, there is a place for them at the Hutton House. Those who do not meet the entry requirements are referred to other organizations that will find housing for them. Sine 2014 fifty-five veterans who were homeless and who were admitted to the Hutton House have been able to turn their lives around and get back to being useful members of society.
In 2017 the Center acquired a 40' shipping container that had been converted into a "mini house". This container, now known as the Rotary House, is used in conjunction with the Hutton House to facilitate veterans back into society. The establishment of the Rotary House was no simple task and took considerable effort on the part of the entire community. The typical stay in the Rotary House is six months. During this time the veteran takes care of himself/herself, the Rotary House, and pays into an escrow account which is used to help defray the eventual cost of a security deposit.
We take pride in the fact that we have an all-volunteer staff which allows 96.6% of all donations to go directly to our programs. The remaining 3.4% covers the costs of utilities.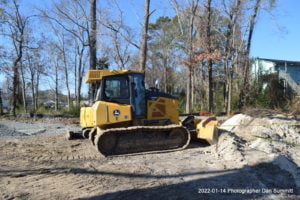 Construction is in the early stages at the future site of our "Tiny Home" development. Plans are to place 40 "Tiny Homes" on the 3rd Avenue plot in Myrtle Beach…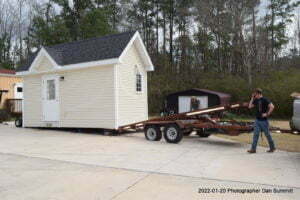 Positioning two "Tiny Homes" at the headquarters of the Welcome Home and Resource Center on Hwy 57 in Little River and preparing for occupancy. We will post additional photos once…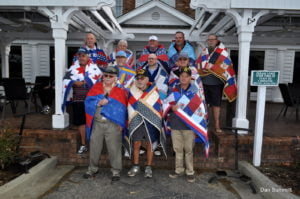 Photos of the Quilts of Valor Presentation at River Hills Country Club are posted and available for viewing and or downloading by clicking this link. CLICK FOR PHOTOS. Share on…